What makes Egypt so interesting as an Outsourcing country?
Egypt and IT Outsourcing – How do they fit together? The country has long been viewed in a stereotypical light: As a Bedouin country where people live in tents and ride camels in the desert that stretches around its Great Pyramids.
A depiction that, to the unacquainted, has been reinforced over the years by movies like "Transformers" that draw a naive and amateurish picture that looks nothing like the reality of a country that has been known for its astounding architectural heritage.
It's true that most of Egypt consists of desert areas (90%), but Egyptians live in the 10% that is not desert, by the river Nile banks and in coastal cities (Mediterranean and Red Sea coasts). This is because Egypt has depended on agriculture and trade for thousands of years.
Some 40 years ago, Egypt realised that for it to accommodate its growing population, it had to move outside the Nile valley. The dream was to build new cities to "decentralise" Cairo and make use of the spacious desert that lay untouched. New cities were built east and west of Cairo. Around the same time, a new industrial city was established south-west of Alexandria. Since then, construction of new settlements and business hubs has never stopped.
In recent history, Egypt has derived its income from agricultural and industrial revenues. However, there has been a noticeable divergence to generate income from services such as tourism, transportation (Suez Canal), financial services, and ICT.
Resolute to build its IT industry and IT economy, Egypt has taken steady steps to establish itself as a service provider partner for the US and EMEA markets.
On the outskirts of Cairo, just about 22 km from the Great Pyramids of Giza, lies Smart Village; Egypt's first and central technological business district. The Smart Village is part of the 6th of October city, one of the cities decreed in 1979 by visionary Egyptian president Anwar El Sadat, whom Chancellor Helmut Schmidt referred to as his "political hero" as well as a "close friend."
As a country, Egypt enjoys a unique set of qualities that sets it apart from other markets. Qualities like proximity as well as similar time zones to European markets, competitive labour cost, and an inexhaustible pool of talent.
In 2016, Egypt won the Global Sourcing Association (GSA) award of outsourcing destination of the year. Egypt's export volume has exceeded $3.6 Billion and 174,000 offshoring jobs. This has proven how well Egypt's ICT market has developed. The focus of its services portfolio is shifting from multilingual contact centre services to more high-value services, such as product development and R&D.
Today, Smart Village is a local headquarter to global companies like Microsoft, Cisco, IBM, HP, Dell, Oracle, Vodafone, and Orange. Some businesses, as SAP, EMC, and Microsoft Centre of Expertise have chosen to operate from the eastern side of Cairo, where more business hubs have been and are being built.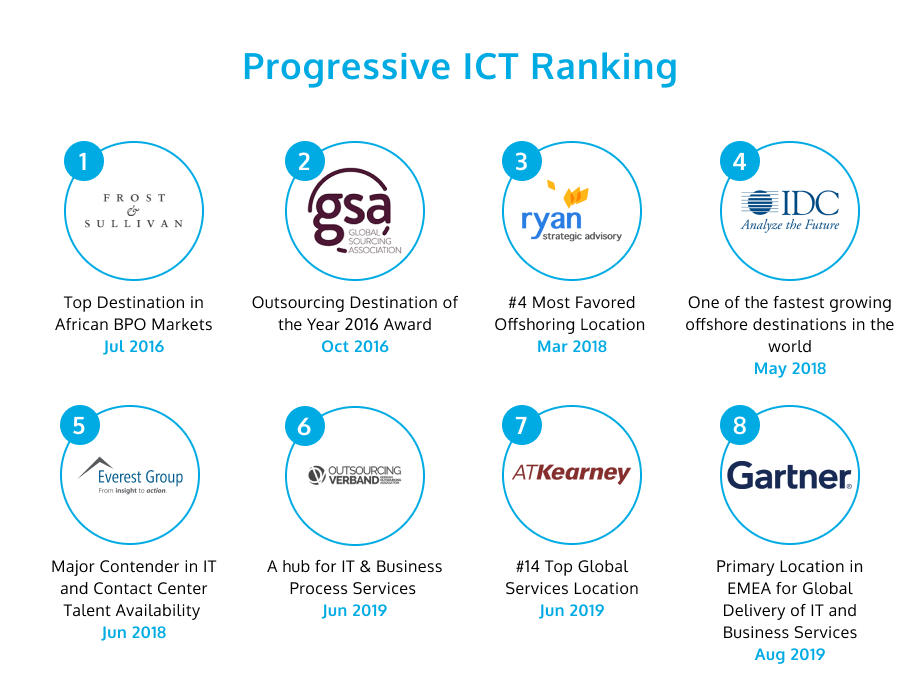 Let's take a closer look at what peculiarities and characteristics of Egypt drive and support its offshoring industry. There are several reasons for this, which we outline below.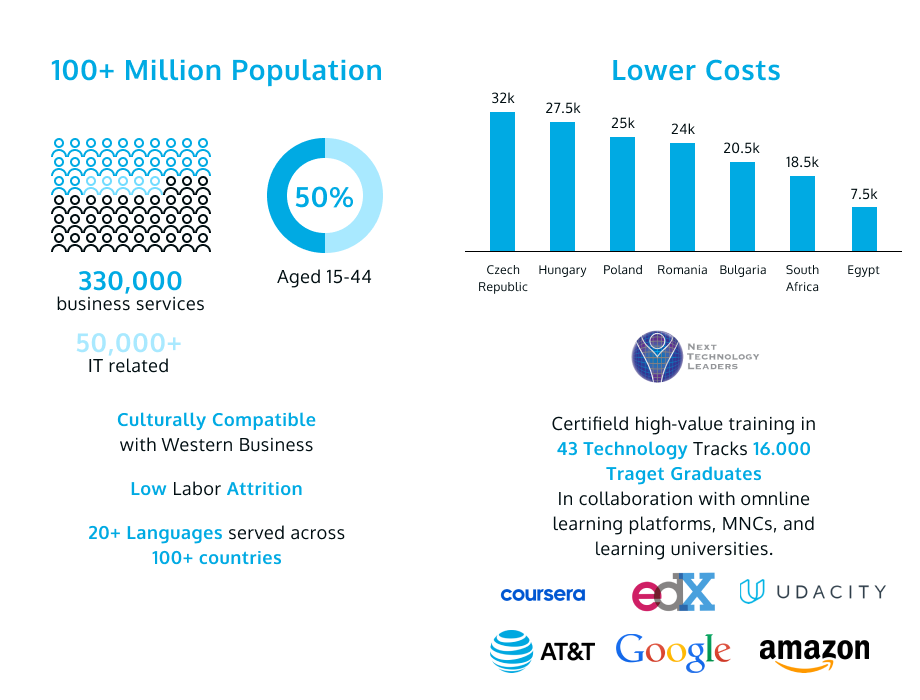 Support for the IT industry from the Egyptian government
Egypt owes its progressive ranking and dominance in this area to increasing government support. Technical education that has resulted in thousands of graduates in fields of Engineering, and Computer & Information Sciences, has been a priority for the past 20 years.
Physical Infrastructure Improvements: A reliable telecommunications connectivity lies at the heart of any high-quality IT outsourcing industry. Fully aware of this fact, Egypt has heavily invested in its utilities and improving its internet connectivity.
Owing to its presence in the middle of the worldwide cables network, and due to the use of high-quality submarine cables, internet connectivity has witnessed a significant enhancement. One that has enabled Egypt to deliver offshore cloud services with the lowest latencies to EMEA regions, positioning the country as a "Digital Canal".
Establishment of technology parks in Egypt
Egypt has been expansively building technology parks that span the entire country. This has encouraged many multinational companies to operate locally. Additionally, a new administrative capital east of Cairo is rapidly growing.
The capital is designed as a Smart City project where all the facilities will be managed through technology. Investments made in AI, IoT, and big data analytics are meant to further widen the talent pool and local resources in these technologies.
A Knowledge City is planned to be part of the new administrative capital that will be home to international universities along with innovation and entrepreneurship centres, and a science park.
Large talent pool of IT specialists
Egypt is the third-most-populous country in Africa with a rapidly growing young population. Home to more than 50 universities and 100 institutes, Egypt's annual turnover of graduates is over 500,000 out of which 330,000 have the skills needed to provide business process services. Every year, 50,000 young men and women with IT-related skills are introduced to the IT market.
Over the years, major technology players present in Egypt such as IBM have partnered with government technology programs and educational institutions. Such collaboration has funded and supported research programs and is continually providing internships and training programs, both to undergraduate and graduate students.
More investments are poured in to support and accelerate skill building in emerging technologies. This includes technologies like data science, AI, IoT, and cybersecurity.
Additionally, businesses like Cisco and Microsoft are working together with educational institutions to offer real-world training and internships to technology students. Areas of focus are primarily mobile development, big data, and IoT. Egypt's aim is to train and certify 45,000 resources before 2022.
Extensive language skills
Even though Arabic is the official language of the country, Egypt has a large workforce with English (90,000 annual graduates), French (5,400 annual graduates), German (3,000 annual graduates), and other European language skills.
This multilingual and abundant talent pool acts as a compelling prospect, especially to markets that are challenged by insufficient human resources.
In that sense, Egypt is such an attractive market. This is why Vodafone has chosen Egypt to host its worldwide center of excellence on technology.
"Things such as RPA (Robotic Process Automation) is being done out of Egypt for the rest of the world. So many activities where you can see that it's really the technical hub is happening in Egypt. Why is that? Simply because we have fantastic talent in the market and we have the ability from a cost perspective to offer quality services in a very competitive price to our other operators around the world." Alexandre Froment-Curtil, CEO, Vodafone Egypt.
Competitive Labour Costs

Egypt offers a very competitive operating cost per individual hire. Without compromising the quality of services offered and with an average cost of hiring a junior software developer of €6,400 per year, hiring Egyptian talent offers over 60% savings, when compared to the annual operating cost per FTE in European markets, including Eastern Europe.
Egypt BP & IT outsourcing market
Egypt embarked on its IT services journey at the turn of the century. In less than 20 years, it has become one of the fastest-growing destinations in the world.
In 2009, its information technology exports averaged $800m. In 2017, it reached $3.2 billion and is estimated to grow to $4.7 billion in 2020.
Globally, BPO is rapidly increasing as businesses seek to respond to market conditions while they streamline their operations. The global growth of the BPO segment is predicted to grow rapidly through 2020 (IDC).
Outside factors have widely contributed to Egypt's ICT industry growth. The mounting demand in Europe for IT and business process capacities is unfulfilled due to a significant shortage of skilled labour.
Moreover, the shift towards higher value services from the shared service industry combined with the increasing cost in nearshore destinations in Central and Eastern European regions have acted as factors that stimulate the growth of Egypt's ICT and BSS industry.
With Egypt putting more focus on growing its KPO services exports, IDC expects R&D/product engineering – which falls under KPO – to reach $65.6 million in 2020.
BPO segments continue to grow steadily as well, with the customer care industry expanding at a rate of 16.2%. Other segments like HR, finance, and procurement are also expected to grow at a rate of around 10.3% through 2020.
Egypt also finds markets for its BPO exports throughout MEA. Countries like Turkey, Saudi Arabia, the UAE, South Africa, Nigeria, and Kenya are all home to large and medium business customers of BPO services from Egypt.
Dell Technologies Egypt Centre of Excellence
One of Dell's four global Technology Centres is in Egypt. The other three are located in Ireland, China, and India. Egypt Centre of Excellence (COE) delivers valuable advanced solutions and support services to both Dell Technologies and its customers around the world.
"Egypt was and continues to be an optimum choice to host our COE, where we can find the value in the abundant & multi-lingual talent supply, competitive cost, government support, agility, innovation, continuous process enhancements, as well as the quality and scalable infrastructure." Magued Mahmoud is Vice President and General Manager, Egypt Centre of Excellence (COE) at Dell Technologies, on why Egypt hosts COE.
Egypt's COE was established in 2009 with only 83 employees. Today it has over 1,400 employees and team members, almost half of them (47%) are females.
UN Africa Technology Innovation Lab
The advances Egypt has attested in the fields of Information Technology and entrepreneurship have been a decisive factor when the UN came to choose its UNTIL headquarters in Africa. In 2017, the UN launched its "Africa's Regional United Nations Technology Innovation Lab".
This comes as a part of the UN's plan to establish a network of technology innovation labs around the world.
As Richard Dictus, UNDP Resident Representative in Egypt expressed, "We have witnessed the development of smart villages and technology parks beyond Cairo, reaching previously untapped territory and unravelled youth potential…. These new establishments are vital infrastructure; generators of entrepreneurs, and what we foresee to be the growth of a plethora of technology-based companies and massive knowledge transfer. We have witnessed the commitment to IT and ICT-driven innovation, entrepreneurship through strong youth capacity development programmes … that aim to continue to strategically position Egypt both regionally and internationally as suppliers of technology leaders."
The UNTIL headquarters in Africa is hosted inside Egypt's Technology Innovation and Entrepreneurship Centre (TIEC), located in Smart Village. The lab has an ambitious goal of using innovative technology solutions to achieve Egypt's sustainable development strategy where the Cairo lab will collaborate with and have access to a network of UN technology innovation labs.
Conclusion
The ideal geographical location and a compelling value proposition have made Egypt an important hub for doing business in EMEA. It is becoming increasingly interesting to consider Egypt as an outsourcing country.
Feel free to check out other countries on the African continent. Nigeria, Kenya and South Africa are ideal candidates when it comes to IT outsourcing. In our guide to Africa and outsourcing, we present their potential to you.